By Jomana Karadsheh and Susannah Cullinane
Doha (CNN) Saudi Arabia, the United Arab Emirates, Bahrain, and Egypt have extended the deadline by 48 hours for Qatar to respond to a list of demands from the Saudi-led coalition, according to the Saudi Ministry of Foreign Affairs.
The request for an extension came from the Emir of Kuwait, Sheikh Sabah Al Ahmed Al Sabah, who has been acting as a mediator between the coalition and Qatar.
He made the request after receiving assurances from the Qataris that they would still deliver their response to him by Monday, the original deadline, the state-run Qatar News Agency said.
Qatar is at the center of the biggest diplomatic crisis in the Middle East in decades, which started in early June when nine allies, led by Saudi Arabia, froze ties with the country over its alleged support of terrorism.
Qatar, which shares its only land border with Saudi Arabia, has rejected the accusations, calling them "unjustified" and "baseless."
Saudi Arabia's Foreign Minister Adel al-Jubeir called the list "non-negotiable" last week. But over the weekend, Qatar's Foreign Minister Sheikh Mohammed bin Abdulrahman Al-Thani said the list was "made to be rejected," adding that Qatar is not afraid of any actions that could be taken against it.
"There is no fear ... Qatar is prepared to face whatever consequences," Al-Thani said.
Foreign ministers from the four Arab states are scheduled to meet in Cairo on Wednesday.
Saudi Arabia, the United Arab Emirates, Bahrain and Egypt have told Qatar to shut down the Al Jazeera media network and its affiliates, and cut ties to extremist organizations including the Muslim Brotherhood and Hamas.
The states have told Qatar it must stop interfering in their affairs and end the practice of giving Qatari nationality to their citizens, and they say the oil-rich state must pay them reparations for damages or costs incurred because of Qatari policies.
They also want Qatar to halt the development of a Turkish military base in the country and reduce diplomatic ties with Iran.
Since the onset of Qatar's isolation, Turkey has fast-tracked a decision to approve the deployment of troops to Qatar -- part of an existing bilateral agreement. Iran, meanwhile, has
sent plane-loads of fruit and vegetables
to Qatar.
On Sunday, US President Donald Trump spoke with three Gulf leaders on opposing sides of the dispute.
In a statement, the White House said the President "spoke separately today with King Salman bin Abdulaziz Al Saud of Saudi Arabia, Crown Prince Mohamed bin Zayed Al Nahyan of Abu Dhabi, and Emir Tamin bin Hamad Al-Thani of Qatar."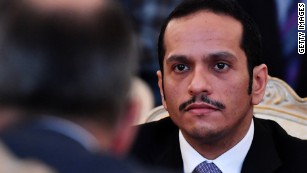 Qatar defiant against Gulf States' deadline01:59
Trump "addressed his concerns about the ongoing dispute between Qatar and some of its Gulf and Arab neighbors. He reiterated the importance of stopping terrorist financing and discrediting extremist ideology," the statement said.
US Secretary of State Rex Tillerson has
repeatedly called for dialogue
between countries on both sides of the diplomatic rift, advocating an evenhanded approach to the standoff. Qatar is a US ally and the US maintains a large military base there, home to some 11,000 personnel.
Chairman of the Senate Committee on Armed Services John McCain met the Crown Prince of Abu Dhabi, Sheikh Mohamed bin Zayed Al Nahyan, and other UAE officials in Abu Dhabi on Saturday.
McCain was accompanied by four other US senators, the official Emirates News Agency reported.
UAE Minister of State for Foreign Affairs Anwar Mohammed Gargash told CNN's International Diplomatic Editor Nic Robertson the UAE had assured McCain that the US base in Qatar would be unaffected by the standoff and would be able to continue operating without interruption.
Gargash said there would be "no big bang" when the deadline for the demands passed, but rather a gradual "turning of financial screws" and that he expected the standoff with Qatar to last for months.
He said he foresaw a role for US and European states to monitor any future agreement with Qatar in the areas of finance, refuge, incitement and political support for terrorists.
The monitors would check Qatar was working to ensure that money did not reach terrorists; the legal process was taken against designated terrorists living in Qatar; Al Jazeera and others did not incite terrorism or extremism, and that terror groups were not aided politically by or from Qatar, Gargash said.
The Kremlin said Russian President Vladimir Putin spoke to both the Emir of Qatar and the King of Bahrain on Saturday to urge for a diplomatic resolution to end the crisis.
"Vladimir Putin stressed the importance of political and diplomatic efforts aimed at overcoming the disagreements and normalizing the current complicated situation," the statement said.
Meantime, the states that issued the demands on Friday "informed the World Trade Organization of the legality of severing diplomatic and consulate ties with Qatar,"
the official Saudi Press Agency reported.
The WTO's Goods Trade Council had been meeting in the Swiss city of Geneva.
"In a joint statement which was read in the meeting, the four countries confirmed that all measures taken do conform with the international systems which legally give the member countries room to move against any country who dares to harm their security and stability, a sovereign right conforming with Article 21 of the General Agreement of trade in goods," SPA reported.
The diplomatic crisis came two weeks after Saudi Arabia, the UAE, Bahrain and Egypt blocked several Qatari media outlets -- including Al Jazeera -- over comments allegedly made by Qatari Emir Sheikh Tamim Al-Hamad Al-Thani.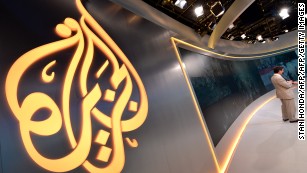 Al Jazeera: What you need to know 01:28
Qatari citizens were expelled from Saudi Arabia, Bahrain and the UAE, and those countries also banned their own citizens from entering Qatar.
Al-Thani reportedly hailed Iran as an "Islamic power" and criticized US President Donald Trump's policy toward Tehran on a news website.
Qatar said the website was hacked, and US officials later told CNN that US investigators believe Russian hackers were behind it.
US officials said the goal of the Russians appeared to be the creation of a rift among the US and its allies.
Saudi Arabia and Iran are at odds over a number of regional issues, including Iran's nuclear program and what Saudis see as Tehran's growing influence in the kingdom's sphere of influence, especially in Syria, Lebanon and neighboring Yemen.
CNN's Jomana Karadesh and Tuqa Khalid reported from Doha. Susannah Cullinane wrote from Auckland and Emanuella Grinberg wrote from Atlanta. Tamara Qiblawi, Roba Alhenawi and Radina Gigova contributed to this report.