Share on FacebookShare on Twitte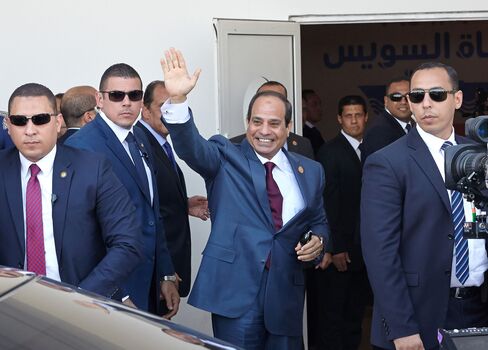 Egyptian President Abdel-Fattah El-Sisi arriving for the opening ceremony of the New Suez Canal, in Ismailia, Egypt, on Aug. 6, 2015.
Amina Mostafa voted for Abdel-Fattah El-Sisi last year, seeing a "strong man" who could take Egypt forward. But after his government moved to cut the wage bill for six million state employees, she took to the streets in protest.
"I have financial commitments and prices are soaring, if the dignity of state employees is lost then what's left of this country?" 42-year-old Mostafa, who works at the National Social Insurance Authority, said at an Aug. 10 rally in Cairo attended by about 2,000 civil servants. The demonstration was the biggest outpouring of discontent with the government's economic policies during El-Sisi's 14 months in office.
In taking on the civil service, which eats up a quarter of state spending, El-Sisi is trying to get a bumpy economic recovery back on track. Success will help him rein in a budget deficit that has topped 10 percent of economic output since 2010. Failure risks alienating those who have stuck with him and further damaging investor confidence.
The outcome will be determined, in large part, by whether civil servants line up behind the plan.
"It's a major gamble," Yasser El-Shimy, a research fellow at Boston University, said in an e-mail. It may "substantially cut the base of popular support for the president," he said.
The protest, and further action promised by a union of government employees, is the latest sign that El-Sisi's promised fiscal overhaul is becoming harder to implement, even as he ramps up spending on megaprojects including a Suez Canal expansion. Since taking the unpopular step of slashing fuel subsidies, the government has backed down on a capital gains tax and a bigger levy on wealthy Egyptians.
Deficit Reduction
"It's hard to decipher the strategic economic direction of the government, putting investors in a 'wait and see' mode that is reflected in slower foreign and domestic investments, and therefore growth," said Omar El-Shenety, managing director at Cairo-based investment bank Multiples Group.
The Civil Service Law fixes annual salary increases at 5 percent, in addition to reducing time required for promotions and centralizing hiring to prevent nepotism.
The Cairo-based Egyptian Center for Economic studies estimates the law will save as much as 22 billion Egyptian pounds ($2.8 billion) compared with projections based on the past trajectory of wages, which increased at an annual average 18 percent pace in the past three years.
Costly, Inefficient
Deputy Finance Minister Ayman El-Kaffas didn't answer phone calls seeking comment.
Egypt's government employs about 25 percent of the country's workforce, compared to an average of 21 percent in OECD countries and about 12 percent in nations such as Chile, Mexico and Turkey. El-Sisi said Egypt only needs a quarter of its state employees, yet the law doesn't address the size of the bureaucracy. The government "has not and will not" fire or retire civil servants, he said in a speech last month.
Unemployment in Egypt is running about 13 percent.
"It is self-evident that the government sector needs to be rethought; it's costly, it's inefficient," El-Shenety said. "But restructuring the government is no easy task because many people will suffer in the process.
Egyptians have endured an average inflation rate of 10.8 percent over the past 12 months, even as global commodity prices plummeted. In addition to lowering fuel subsidies, the government increased rail and electricity prices to ease the strain on state coffers.
Cutting Costs
El-Sisi's administration has been accused of favoring expense-cutting rather than raising revenue as it shores up public finances.
In March, officials canceled a 5 percent surcharge on the highest-earning Egyptians, just nine months after it took effect. The International Monetary Fund criticized the decision to delay a capital gains tax on stocks, saying it would leave the poor to bear the brunt of government cost-cutting.
The law is taking effect ''at a time of diminishing social safety nets with declining subsidies and government services,'' El-Shimy at Boston University said.
Naama Morsi, a 37-year-old employee at Egypt's tax authority, will now see her monthly salary rise to 2,230 Egyptian pounds ($285) instead of the 2,400 pounds she expected before the law was changed.
Dressed in the red, black and white colors of Egypt's flag, Morsi held a photo of El-Sisi at the rally to show she was protesting against the government rather than the president.
'Sacrifice'
''Is the size of the bureaucracy today normal and suitable for a country like Egypt?" El-Sisi responded to the protests in a televised address. He called on demonstrators to accept the law and make a "sacrifice for their country."
El-Sisi does have some economic data on his side.
The deficit is expected to equal 10.8 percent of gross domestic product in the year ending June 30, down from 13.7 percent two years ago. Economic growth also rose above 4 percent for the first time since 2010 in the nine months to March on the strength of government infrastructure projects.
Civil servants are typically paid more than private sector workers and so far, in public at least, they're directing their ire at the government rather than El-Sisi.
The trade union of the government's sales tax authority is planning a "million-man protest" on Sept. 12, union head Fatma Fouad said by phone. The group is in talks with the government to suspend the legislation until a parliament is elected, he said. Balloting is to take place in mid-October.
El-Sisi "was the only answer to the chaos and political instability into which the country was descending," Mostafa, the civil servant, said at last month's rally. "I understand Egypt is going through a difficult time and we should make sacrifices, but why should we stand out when we are the power base for this country?"